Shipping Information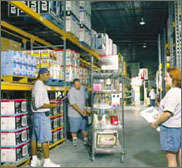 We work very hard to ensure that you get your order quickly by stocking the vast majority of the products we carry. With few exceptions, orders are shipped within 1 or 2 business days of being placed. If you're a U.S. resident, we usually ship your order using UPS® Home Delivery, UPS Surepost or USPS Priority Mail. Delivery times will vary greatly depending upon where your order is destined, but our experience has shown that most orders are received between 2 and 8 business days after leaving our warehouse in Austell, Georgia. Packages are delivered without the need for your signature unless specifically requested during order placement. We send an e-mail message when your order ships that gives you tracking information, an order summary, and the order number that you should reference in any correspondence.

You have the choice to receive your order via air delivery with UPS Standard Overnight (Next Day), 2-Day or expedited ground (guarantees no regular mail is used and that the order will ship same day if before cut off times). If you'd like your order shipped today by either of these methods, it must be placed by 12pm Eastern Time (or 11am for any products noted as Manufacturer Direct items) or it will be shipped the next business day. Expedited Ground if placed by 12 pm EST order is guaranteed to ship out within 24 hours. Air orders and Expedited ground orders placed after 12pm on Friday or orders placed on a Saturday, Sunday or Holiday will be shipped the following business day. Delivery times for air shipments are guaranteed before 4:30pm and may require your signature to be delivered. Also, keep in mind that air delivery times are measured in business days (not including holidays or weekends) so a 2-Day air order placed after 12pm Eastern Time on a Thursday, will be delivered on Tuesday end of day. We do not currently offer expedited shipping with a Saturday delivery on the website. If you require a Saturday delivery, please call and order directly through our Customer Service Department. Saturday delivery is an option when shipping via Overnight/Next Day and involves an additional fee. We can be reached by calling 1.800.522.1448 but be sure to call before 12pm Monday-Friday.

There are some states and territories that require air shipping. These include Puerto Rico, Hawaii, Alaska, U.S. Virgin Islands, Guam and Other US Territories. Our website can handle your order, and in these instances we will ship via Priority Mail at a flat rate of $19.99 through the U.S. Postal Service. Additionally, orders being delivered to a U.S. Military Address will also be shipped via Priority Mail. You may enter a Post Office Box as a delivery address even though you'll see a message in red stating otherwise. Finally, your shipping charges will be based upon the total weight of the order rather than the dollar amount.

A few of the products we sell are what we call "Special Order". If you see an item listed as such, it simply means the item will be shipped to you directly by the manufacturer rather than from our warehouse. This may increase the delivery time a bit for that item and it also means that we have no control over what delivery method the manufacturer chooses to use.
We have implemented a "Ship in Full" policy to help mitigate the ever increasing costs from shipping carriers. If an item is not in stock, which is rare, we will wait to ship your order for up to five (5) business days until that item becomes available. If the backordered item is still unavailable after 5 business days, all items in stock will be shipped and the backordered item will be sent when we receive it with no additional shipping charge.
The rates published below only apply to consumer orders being delivered to the lower 48 states and do not include the exceptions noted above. Shipping charges are based upon the dollar amount of the un-discounted subtotal. The addition of Georgia state tax (when applicable) or the removal of any order discounts will not affect this charge. Commercial orders (large orders for companies rather than individuals) are subject to actual shipping charges by weight and will be quoted by our Commercial Department upon request or order submission.
No Taxes! Only orders shipped to a Georgia address are subject to Georgia state tax! *Please note: Royal-Pedic orders shipping to a California address are subject to California state tax.



Contiguous U.S. Shipping & Processing Charges for Ground Delivery
Up to $58.99.................................................$7.99
$59.00 and Over.......................................FREE!

Please remember that the above rates include a processing fee and are not just the actual freight costs. This portion of the fee goes toward the handling of your order including the materials used (boxes, tape, packing paper, etc.) as well as the labor to pick, pack, and ship your order.


International Customers and APO Addresses - Important Information
Orders shipped to an international or APO address can also be placed online and will be shipped via a carrier of our choosing. Delivery times vary but are usually between 5 to 10 days. The shipping charge is based upon the total weight of the order rather than the dollar amount. Please be aware that shipping charges quoted during the checkout process on our site are estimates. We reserve the right to adjust the shipping charge and will notify you via e-mail if actual charges are higher than the initial estimate. The choice of carrier is based on your geographical location and our knowledge of delivery times as well as the actual cost we'll incur to ship your order. PLEASE NOTE: You will be responsible for any customs fees, taxes or duties that might be levied by your country's government or any brokerage fees charged by the shipping carrier.

We require a working telephone number and email address for all orders. If your order subtotal is between $200 and $1,000, we may contact you for more information to verify your order. If we are not able to validate your billing address and/or credit card account information we may cancel your order. To check on the status of your order, email ourOrder Processing Department or call us at 770-623-3237.

Please Note: We require payment via wire transfer for ALL international orders over $1,000.00. Please email us at Commercial Sales Department or call us at 770-623-3237 for the information you'll need to complete your order.