About National Allergy Supply®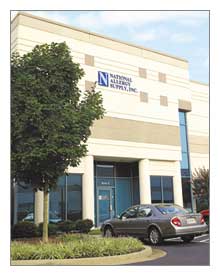 Your Source to Live Allergy Free: Allergy Products for Personal and Home Use
Welcome to National Allergy, one of the nation's largest asthma, sinus and allergy products suppliers. Our goal is to help make your environment allergen free. The allergy products we carry are for personal and home use, and are offered at a competitive price!

Our caring approach to allergy relief sets us apart from other companies. Our customers consistently comment on our commitment to selling only effective allergy relief products, our 60-day 100% satisfaction guarantee on all of our products, and our dedication to having friendly and knowledgeable customer service representatives available so you can reach a live person to answer your questions without being transferred around multiple times. Our goal is to provide accurate education as well as tested and proven products to complement physician prescribed treatment for allergy, asthma, and sinus patients.

In 1988, Mr. and Mrs. Ryner Wittgens began allergy proofing their home for their daughter, Katie, who was diagnosed with six different airborne allergies. As a result of their effort to locate products (many of which were not easy to find at that time) the Wittgens family decided to open their own allergy products business. What began first as a local effort to make products available to allergy sufferers quickly developed into a direct mail company serving the Southeast and then the entire nation. Today, more than 10,000 doctors around the country have sent their patients to National Allergy for products to reduce indoor allergens improve indoor air quality and help you breathe a sigh of relief. We think you'll notice a refreshing difference doing business with us.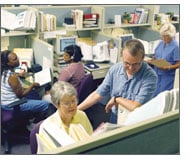 Patient Support
In any business customer satisfaction is the key to success. Businesses grow because customers are satisfied. National Allergy has two customers, the ultimate purchaser of our products and the physician who recommends us. Our goal, at which we have been successful, is for the patient to be so satisfied with our products and services that the physician hears only good reports. So how do we do it?
Highly trained and very experienced Customer Service Representatives
CSRs are salaried; callers aren't rushed or pressured to make a purchase
Continual training on both products and health conditions
Free patient e-mail newsletter focused on helpful education
A focus on products appropriate for the patient's diagnosis
Web site with loads of helpful information
Quick attention to patients who have questions or need help with a product
Printed patient educational literature

Physician Partnership
With over 10,000 referring physicians and literally hundreds of thousands of patient referrals from them, we know what it means to partner with doctors. Some of the ways that partnership is exemplified include our support and attendance at annual doctor meetings, advertising in their professional journal, our willingness to visit offices to perform staff training, and our indigent patient program. Over the years, we have donated thousands of encasings to patients who are most in need. Looking ahead, National Allergy will continue to be a partner physicians can trust as we work together toward the goal of improved patient outcomes.

Physician Services
In our many years of working with physicians and their staff, we have tried to listen to their requests for services and information which would hopefully increase patient compliance for recommended environmental controls. Our mutual goal has been, and remains, for our products to enhance overall effectiveness of patient treatment as prescribed by the physician. In responding to thousands of doctors, the following items and services are being provided free of charge for doctor's offices that recommend National Allergy to their patients:
Patient product literature
Educational literature
Bedroom allergen avoidance posters
Swatches of encasing fabrics
Online physician services
Sample pillow encasings

Testing & Evaluation
Making claims about a product's effectiveness is easy–knowing the claim is accurate is not quite as easy. At National Allergy, we believe we owe every referring physician and every customer the comfort of knowing that our claims can be relied upon. We have our own in-house testing equipment, including particle counters for testing air cleaners, vacuum cleaners and filtration products. In addition, we use recognized independent testing laboratories to test the effectiveness of our encasings and other products. In short, we take every step possible to try to be certain our products perform as advertised.

Commercial & Wholesale Division
National Allergy provides allergy, asthma and sinus relief products to a variety of users in addition to physician referred patients. Numerous state and federal institutions, hospitals, etc. count on National Allergy Supply for products to use in their operations. There are also national and international retailers who purchase our products for resale. Our Commercial Account Executive and staff work exclusively with these commercial customers.


Manufacturing
Made in America, by company employees! That's right. While most sewers are going "off shore", all of our encasings are made in our own sewing plant in North Georgia. Not only does this allow us to contribute to the American economy, but it also allows us to have total control over production. We have special processes to be sure our encasings, including seams and zippers, don't leak! And we thoroughly inspect every single encasing we make. Most manufacturers inspect random samples, but we decided that was not good enough for our customers. Our goal is to make the best encasings in the world. And when we do, we begin looking for ways to make them even better!

The Quality Process

Skilled operators, superior fabrics, the right equipment and careful inspection are all components of excellent quality. At National Allergy Supply, we not only have all these components, but we also have the extra motivation of Employee Ownership. We think this is a winning combination.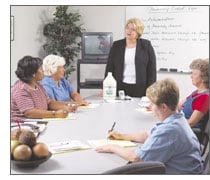 Training
Surveys indicate that our satisfied customers are the result of several things: prompt answering of the telephone (usually by a live person), friendly, knowledgeable Customer Service Representatives, quick, accurate shipment of products ordered, a user-friendly web site, and "unbelievably courteous and prompt" resolutions to problems which do occasionally arise. These things do not happen without commitment and constant training. We have both! CSR's receive about one month's training in the medical aspects of allergy, asthma and sinus problems along with product training before they are ever allowed to consult with a patient. Then they receive regular supplemental training throughout their employment. Our warehouse associates are trained in products so that the right item gets in the right box. The Journal of Allergy and Clinical Immunology, along with other material, is a regular part of our Training Manager's reading and we make every effort to keep all of our associates up to date on "what's happening" in the allergy world. We believe we have the best-trained employees in the business.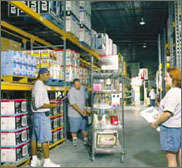 Fulfillment/Shipping
With a large assortment of inventory in a temperature and humidity controlled warehouse space, National Allergy is committed to serving our customers with excellence. We very seldom have a back ordered item and most weekday orders received by 1:00PM Eastern Time are shipped that same day. How do we do it? Commitment on the part of our owner associates who fulfill our orders. They truly treat each order just as they would if they were the one to be receiving the package. Again, our customer surveys indicate that the order fulfillment team's commitment pays off.


Physicians Know Us By Our Product Flyers, Patients Trust Us For Our Caring Service.
National Allergy's patient product guide has become extremely well known and is widely used by allergy, asthma, and sinus physicians nationwide. Our product guide is still how doctors know us best, but patients know us for our personal, caring service and refreshingly complete satisfaction. From our beginning in 1988 as a company to serve the needs of local doctors' patients, we have grown to become one of the largest companies of our kind in the nation. And we are still working to earn your trust, one satisfied patient at a time. We are pleased to have gained the trust of so many doctors, and we believe we will continue to find ways to improve our products and services. That's why the future is exciting to all of us who now have a personal ownership in this growing company and why we will never stop looking for ways to serve allergy, asthma and sinusitis patients with excellence.