NAS Manufacturing: Creating Allergy Free Products
Made right here in America! That's right. While most sewers are going "off shore", all of our encasings are made in a National Allergy owned sewing plant in North Georgia. Not only does this allow us to contribute to the American economy, but it also allows us to have total control over production. We have special processes to be sure our encasings, including seams and zippers, don't leak! And we thoroughly inspect every single encasing we make. Most manufacturers inspect random samples, but we decided that was not good enough for our customers. Our goal is to make the best encasings in the world. And when we do, we begin looking for ways to make them even better!


Contract Sewing Manufacturer for Allergy Products and More

NAS Manufacturing can facilitate your business' success by providing custom cut and sew services as well as assistance with raw material procurement and packaging for your product. Our staff currently has over 30 years of experience in the consumer, juvenile, and medical textile business. We currently contract manufacture and ship bedding and other products worldwide, and we take pride in working to produce quality products with purpose, function, and material benefit to our customers.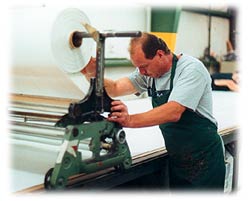 NAS Manufacturing serves diverse markets and provides custom cut and sewn finished products, as well as components and assemblies for a multitude of applications. Some of the markets we serve include health care products for the home and hospitals, OEM, military, and government agencies. We offer volume production of cut and sewn fabrics and materials utilizing four different sewing processes:
Single-needle
Multi-needle
Surging
Binding
Custom Sewing Manufacturer

NAS Manufacturing provides design engineering, prototypes, pre-production fabrication, and finished packaging services as needed. We assist OEM and brand name accounts as well as government departments helping them to meet product requirements for cut and sewn finished goods and components including items such as covers for foam mattresses, medical positioning pillow covers, anti-allergy bedding covers, and tool bags. We specialize in non-apparel sewing contracts by sewing light, medium, & heavy weight fabrics including stretch knits (both laminated and non-laminated), cotton and poly woven materials such as standard and micro-fiber, duck and trigger cloth, denim, webbing, vinyl, synthetic & coated fabrics, & non-wovens. Production runs can be accommodated between 1,000 and 100,000 pieces per production cycle.

The Quality Process

Skilled operators, superior fabrics, the right equipment and careful inspection are all components of excellent quality. We think this is a winning combination. If you would like additional information or would like to have a job quoted, our contact information is as follows:

NAS Manufacturing
180 Ivie Street
Cornelia, GA 30531
(800) 370-1988