Need Expert Advice?
Want To Order By Phone?
Call 1.800.522.1448
Mon.-Fri. 9am to 5:30pm EST
Blueair 603 HEPASilent Air Purifier
Experience Mountain-Fresh Air In Your Home Without Sacrificing Style
Blueair 603 Electronic Air Purifier is the system for people living with allergies, asthma, or other respiratory conditions, or for anyone who wants cleaner, more breathable air. The…click to read more on the product tabs below.
Add to Cart
Description
Additional Info
Instructions
Specifications
Video
*Shipping Info
Ratings/Reviews
Recommended Products

VentGuard Vent Filtration Kit
From $13.49
buy now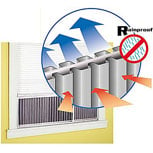 Safeguard Window Screen Filter
From $25.99
buy now
Please make your selections before adding to cart. Missing selections are highlighted in red.
Please enter a quantity next to the item you wish to purchase.