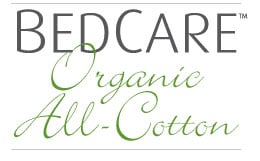 BedCare Organic All-Cotton Pillow Encasings are made of unbleached 100% GOTS (Global Organic Textile Standard) Certified Organic Cotton so you know you have the very best quality available. With a pore size of just 4.8 microns, only air can permeate this tightly woven fabric, for total protection from dust mite allergen and bed bugs while you sleep. The quality of these zippered pillow covers is guaranteed because of the care American craftsmen put into each and every one. Even the most discriminating cotton lovers will be delighted with Organic All-Cotton pillow encasings. Machine wash and dry. Lifetime Warranty.

Our BedCare All-Cotton Fabric is Certified Friendly™ by the Asthma & Allergy Foundation of America.
Why BedCare Organic All-Cotton?
BedCare Organic All-Cotton fabric is the preferred choice for organic cotton enthusiasts. Highlights include:
100% Organic cotton for first-class comfort without sacrificing efficacy
Certified to meet Global Organic Textile Standard (GOTS)
All natural materials - no chemicals, latex, dyes or any added treatments
With a mean pore size of 4.8 microns, BedCare Organic All Cotton offers high-level protection against dust mites, pet dander, bed bugs and other harmful allergens
Uniquely sanforized treatment prevents shrinkage and maintains the fabric's pore-size integrity through repeated washings!
Superbly soft with cool breathability
Green, non-toxic and eco-friendly
Lifetime Warranty
Made in USA
Includes our BugShield® Two-Part System
The BugShield® Two-Part System
There are two parts to the BugShield® system: the Zipper-Lock and the Bug Blocker.
The BugShield® Zipper-Lock is an auto-locking zipper that locks the zipper slide in place so that it will NOT backtrack to leave small openings that bed bugs could sneak through. The zipper cannot accidentally open. To open the zipper, the zipper tab must be pulled.

The BugShield® Bug Blocker is an added barrier that closes the last inch or so of the zipper from below to create a fabric shield under the zipper closure to doubly ensure that bed bugs will not be able to get in or out of the encasing.

While most sewing manufacturers are going "off shore," we proudly make all of our allergen covers in the USA. Skilled American craftsmen and women know that the care they take in making each mattress cover is important to your health, a job they take very seriously. Each encasing is also individually hand inspected throughout fabrication to maintain top quality. We make our BedCare Organic All-Cotton allergy pillow covers to last a lifetime.