Why a Royal-Pedic Natural Organic Cotton with Wool Wrap Mattress?
Looking from the outside in, let's start with the Mattress cover. The inner organic cotton padding and French wool wrap are completely encased in Royal-Pedic's 100% natural organic cotton ticking cover (woven in the U.S. and Peru). The organic cotton ventilates body heat, is free of chemicals, and is also very durable. In contrast, most mattress manufacturers use cheaper polyester fabrics that also contain a dangerous chemical flame retardant.
Directly beneath the organic cotton cover, the French wool wrap is layered on top of the organic cotton padding, and acts as a natural fire barrier that meets Federal and State codes without the use of toxic chemicals. The odorless wool wrap is also naturally resistant to dust mites, plus wicks away moisture and helps maintain a comfortable surface temperature. The curl of the French wool adds resiliency and bounce, yet won't mat down or leave body imprints like crimped wool fibers can.
Under that,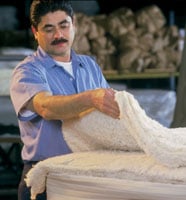 organic staple cotton padding is hand layered on each side of the innerspring to provide a consistent and supportive sleep surface. Royal-Pedic uses only the finest organic staple cotton from California, Texas and Peru. Organic cotton is grown without the use of pesticides or chemical fertilizers, and is completely free of all flame retardants and chemical sprays. No polyurethane foam is used, not only because of its limited ability to provide consistent body support over time as it breaks down, but also because it can off-gas harmful petrochemical vapors. These chemicals are often those that health-conscious people and those with allergies or chemical sensitivities (MCS) look to avoid.
Below that, coils are protected with a 10-ounce, 100% organic cotton canvas fabric, added to support the many layers of organic cotton padding and prevent them from pocketing down and getting entangled in the innerspring's coils. By comparison, many other mattresses include a support pad made of ground-up scraps of various synthetic materials glued to nylon webbing.
Next, comes the innerspring system. This mattress utilizes the Royal-Flex® 630i Innerspring – engineered in Switzerland, and containing approximately 68% more coils than industry standard. The innersprings are double heat tempered to provide better durability and greater resistance to sagging. The coil springs are open ended, unknotted, six-turn coils that provide added flexibility, which translates into greater sensitivity to your body's contours for better support and relaxation.
Now, think about what holds the innerspring together. Royal-Pedic uses T-spring side supports around the perimeter of the innerspring system to provide better edge firmness and support. T-Spring side supports are a stronger, safer alternative to the common foam cylinders or wedges made from petrochemicals that are so often used by mattress manufacturers.
Finally, think about craftsmanship. This natural organic mattress is hand tufted the traditional way with European tufting straps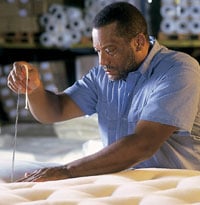 that further pre-compress the organic cotton padding for greater orthopedic back support. Royal-Pedic does not use buttons to tuft its mattresses because buttons tend to eventually turn on their sides, resulting in an uncomfortable sleep surface.
If you are considering purchasing a bed set, Royal-Pedic's H-2 organic cotton box spring with wool wrap provides firm, yet flexible support for many years of comfort and satisfaction. On the inside, everything about this box spring says quality, strength and durability, from the number, type and gauge of the coils used, to the hotel-grade foundation that the coils rest on. This exceptional box spring is covered in the same natural organic cotton fabric as the mattress, and is padded at the top with a layer of organic cotton to lend added support to the bottom of the mattress, plus a layering of French Wool as a fire barrier. Heavy-duty organic cotton fabric is used on the underside of the box spring in place of the customary thin, non-woven synthetic that often droops and pills. To finish, brass corner guards are installed on lower corners instead of the plastic ones that so easily break off.